Accelerating Organizational Effectiveness with Signature Service
Business Challenges Solved with This Course
Signature Service
Businesses in every sector are experiencing increased competition as new, diverse players enter the market. When consumers have more choices, they perceive fewer differences among companies that provide similar services. Switching suppliers is easy, and customers can demand a higher level of service. To remain competitive, your business can't afford anything less than the highest level of customer satisfaction. This means ensuring that customer contact personnel have the tools and skills they need to deliver the highest possible level of customer satisfaction.
What You Can Expect From This Course
Researched and developed by Wilson Learning, Signature Service is a practical, results-oriented program that helps service providers at all levels develop and apply the skills necessary to ensure customer satisfaction. Signature Service recognizes four distinct customer conditions and provides specific approaches for successfully responding to each one. Service providers bring customers to a satisfied level, then confirm customer satisfaction. During this workshop, participants will focus on the following key learnings:
Discovering the Opportunities in Customer Satisfaction
How to explain the value of customer satisfaction for the organization, customer, and service provider.
Managing Myself
How to apply a three-part approach to self-management.
Opening the Interaction
How to identify customer conditions and respond appropriately.
Determining Needs and Expectations
How to use listening, questioning, and empathy skills.
Managing the Interaction
How to present clear explanations and protect the relationship with the customer while adhering to the company's policies and procedures.
Satisfying Customers in the Comfortable and Indecisive Conditions
How to work with customers in positive to neutral customer conditions.
Satisfying Customers in the Insistent and Irate Conditions
How to work with potentially negative and emotionally charged customer situations.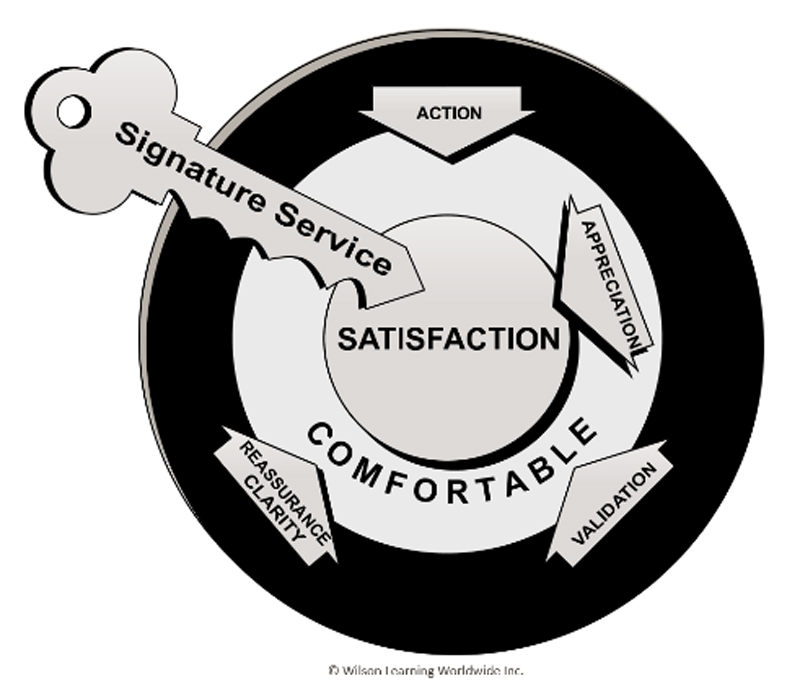 Signature Service is a two day program that features various performance application, reinforcement, and support tools. These additional learning components—pre-work, participant guide, application exercises, job aid cards, implementation guides, electronic reinforcement tools and performance checklists allow participants to fine-tune and apply new skills and behaviors on the job. After the workshop, Our Learning That Never Stops™ approach ensures skills learned in Signature Service will be transferred to day-to-day work practices with our extended learning follow-up for self-paced reinforcement.
Involving sales managers early on, and training them to coach for interpersonal versatility, is also fundamental to successful VSP implementation.
NuVue works with your team to identify your business needs to ensure the delivery of the program targets your business challenges and objectives. Program content can be customized based on your business model.
At the end of the workshop, participants are able to:
What our clients are saying Request More Information on Our Solutions
Please fill out the form below or give us a call at (800) 688-8310. We look forward to talking with you!
"*" indicates required fields
For more information or to get started,
call us at (800) 688-8310.