Foster performance and fulfillment rather than focusing on increasing output.
Coaching for Performance helps solve many business challenges:
Coaching for Performance
High-performing organizations frequently view coaching in the context of fostering performance and fulfillment rather than focusing on increasing output. Their employees are more engaged in their work, motivated to expand their skill sets over time, and driven to succeed. The Coaching for Performance workshop prepares your managers to coach for increased performance.
What You Can Expect From This Course
Researched and developed by Wilson Learning, Leading for Performance: Coaching for Performance (LFP-CFP) offers first-line and mid-level managers coaching skills and techniques to create the conditions under which employees can succeed. During this 1 day workshop, participants will focus on the following key learnings:
Clarify Expectations
Observe Behaviors and Results
Ask Associates for their Perspectives
Create an Action Plan
Help with Support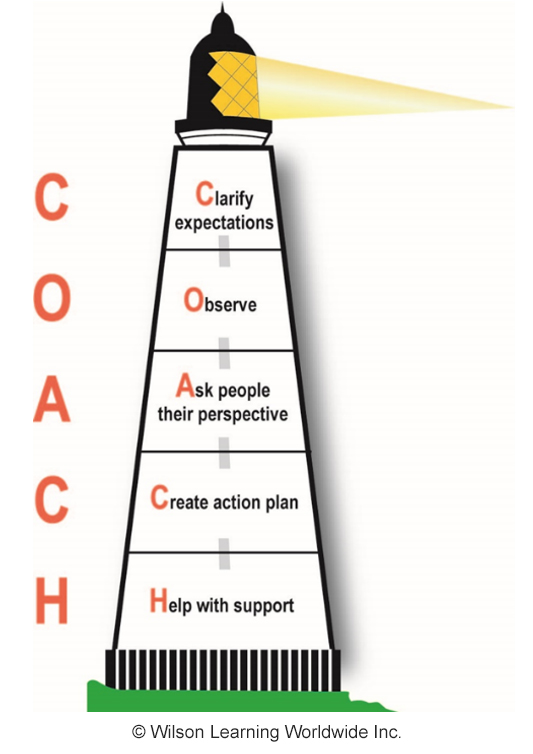 Our Learning That Never Stops™ approach will ensure skills learned in Coaching for Performance will be transferred to day-to-day work practices. To achieve this Leading for Performance: Coaching for Performance (LFP-CFP) features the Coaching for Performance Planner and Job Aid Card so participants can fine-tune and apply new skills and behaviors on the job. Involving management and training them to coach is important for successful implementation. Participants also receive extended learning follow-up for self-paced reinforcement.
Participants who also complete Setting Goals for Success and Reviewing Performance will have the skills and knowledge to implement a more complete performance management process.
Delivery Options
Coaching for Performance has two delivery options.
Extended Learning System
The Coaching for Performance includes an Extended Learning System with self-paced reinforcement for participants and coaching tips for sales managers to help coach and reinforce the learning and get results like – increased sales, higher margins, more new customers, etc.
At the end of the workshop, participants are able to:
NuVue will partner with your organization to measure the initial behavioral changes and business results. Our common interest is to make sure that The Counselor Salesperson delivers the results you seek. We are committed to helping you succeed. We will work with you to set up measurement systems to help move desired change forward and sustain the momentum of your implementation.
What our clients are saying Request More Information on Our Solutions
Please fill out the form below or give us a call at (800) 688-8310. We look forward to talking with you!
"*" indicates required fields
For more information or to get started,
call us at (800) 688-8310.