Empower Your Sales Team with NuVue's Proven Courses
Sales Enablement is the process of integrating and streamlining efforts to make selling more efficient and effective. There are four elements to any sales enablement process, and we can help with them all!
Versatile Salesperson
Participants are profiled for their perceived Social Style and interpersonal versatility level, then learn how to identify others' Social Styles and temporarily adjust their own to communicate more easily and effectively with others.
Four Levels of a Sales Professional
There are four levels of a sales professional, each goes through next stage at different times with different customers. The goal is to have more sales professionals be seen as Trusted Advisors with more customers.
Level One – Technical Sales
Customer views the Sales Representative as a Vendor — a person with a product to sell.
Level Two – Consultative Sales
Customer views the Sales Representative as a Consultant / Problem Solver — a value added resource to their business.
Level Three – Business Partner
Customer views the Sales Representative as a Business Partner, an above average Sales Representative because they go beyond just selling their products. They understand how business works and combined with strategic thinking they add significant value to the customer's business.
Level Four – Trusted Advisor
Customers view this Sales Representative beyond a Business Partner, rather a Trusted Advisor. They are recognized as the BEST Sales Representative calling on them. Customers look to this Sales Representative for leadership, in-depth knowledge, and don't make any strategic move without first consulting with their Trusted Advisor.
Build a Sales Curriculum
NuVue works with our clients to build a sales curriculum that builds skills for each level of sales professional.  It is recommended to have foundational and several intermediate courses before taking a Salesperson Navigator to determine what skills are most important for the advanced skills.
Listed is a most popular multi-year sales curriculum.  Many companies train two workshops year making this a three-year curriculum, other companies target one workshop per year making it a 6-year process.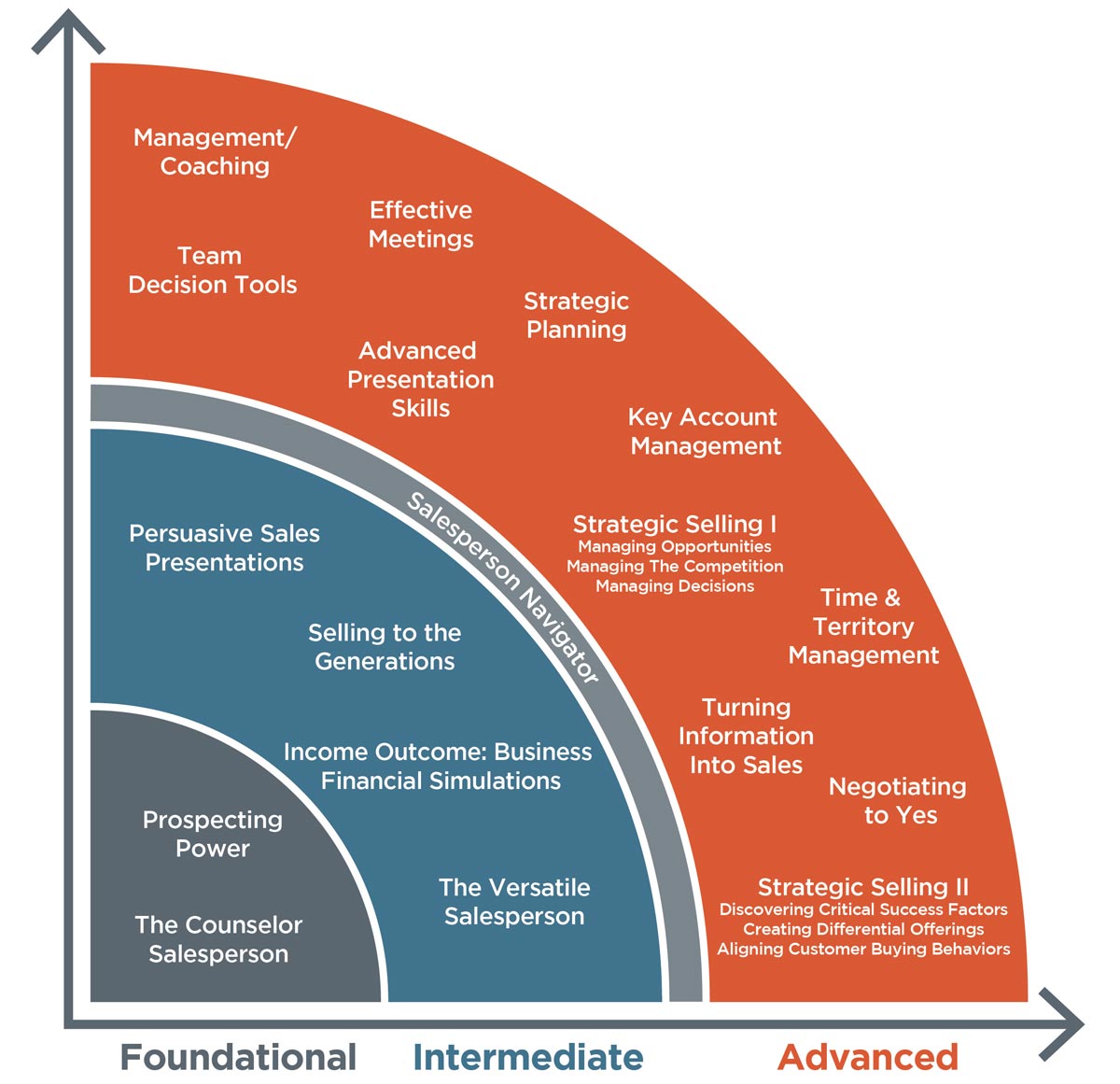 What our clients are saying Request More Information on Our Solutions
Please fill out the form below or give us a call at (800) 688-8310. We look forward to talking with you!
"*" indicates required fields
For more information or to get started,
call us at (800) 688-8310.