Accelerating Leadership Effectiveness with Global Effectiveness
Business Challenges Solved with This Course
Global EffectiveNess
Businesses big and small are participating in the global marketplace. In fact, an employee need not travel across the ocean to experience different cultures and ways of life; cultural differences are present within national boundaries. In order for business deals to run smoothly, it is becoming more important for every member of an organization to be able to interact effectively with people from other cultures. Many business opportunities are lost due to cultural misunderstandings. By equipping each employee with the appropriate knowledge, those deal-breaking, costly mistakes can be avoided.
What You Can Expect From This Course
Researched and developed by Wilson Learning, Global Effectiveness is based on working within the five cultural dimensions (see below). This program will teach participants what types of behaviors to expect from certain cultures and how to prepare themselves for business interactions. Also, as participants learn about each of the five dimensions, they will understand stereotypes differently and will be able to make business interactions run more smoothly. During this 2 day workshop, participants will focus on the following key learnings:
Program Introduction
How to define the importance of a global mindset and a global skill set that leads to global effectiveness.
Cross-Cultural Foundation
How to define culture and its impact on business, how to assess one's beliefs and values and how they impact one's own view of other cultures. How to recognize stereotypes and their impact on human interactions and how to overcome them.
Global Skills Tools
How to identify differences in expectations and behaviors through five cross-cultural dimensions and understand how they affect business relationships.
International Business Communication
How to apply and use the global skills tools in international business communications.
Culture Shock
How to recognize the elements of culture shock and how it may affect everyone involved and how to cope with culture shock to minimize the impact on business.
Action Plan
How to capitalize on global effectiveness and how to create cultural profiles in order to become more effective with global business partners.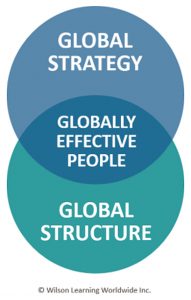 Global Effectiveness includes various performance application, reinforcement, and support tools, such as planning tools, checklists, application exercises, job aid cards and electronic reinforcement tools. These tools ensure that participants can hone newly acquired skills and behaviors upon returning to work.
After the workshop, Our Learning That Never Stops™ approach ensures skills learned in Global Effectiveness will be transferred to day-to-day work practices with our extended learning follow-up for self-paced reinforcement.
Involving managers and/or peer support groups early on, and training them to coach for improved performance, is also important for successful program implementation.
NuVue works with your team to identify your business needs to ensure the delivery of the program targets your business challenges and objectives. Program content can be customized based on your business model.
At the end of the workshop, participants are able to:
What our clients are saying Request More Information on Our Solutions
Please fill out the form below or give us a call at (800) 688-8310. We look forward to talking with you!
"*" indicates required fields
For more information or to get started,
call us at (800) 688-8310.