Accelerating Leadership Effectiveness with Leading for Growth
Business Challenges Solved with This Course
Leading for Growth
Yesterday's leaders were characterized by a take-charge attitude, a high degree of control over employees, and knowing all the answers. This heroic management mindset creates an uninspired organization where employees fail to show initiative, take risks, or collaborate. Today, no one person can possibly have all the answers, and organizations need leaders who can develop team members, collaborate to create innovative approaches and outcomes, and adapt to changing needs. This mindset of growth leadership creates the conditions where individuals take responsibility for the business and collaborate in implementing strategy to achieve business results.
What You Can Expect From This Course
Researched and developed by Wilson Learning, Leading for Growth™ (LFG) challenges managers to rethink their role as leaders, shifting their mindset from that of "heroic manager" to "growth leader." The program is structured on the core dimensions of growth leadership: building a collaborative culture, creating a shared vision, and adopting mutual influence. During this 2 day workshop, participants will focus on the following key learnings:
Choosing Growth Leadership
How to connect the consequences of heroic management and the benefits of growth leadership to participants' roles in their own organizations.
Building a Collaborative Growth Culture
How to define collaboration and recognize how a collaborative mindset helps build an environment of shared responsibility and collaboration, how to apply four approaches growth leaders use for decision making and how to interpret the Five Stages of Collaboration and use the skills for each stage and for moving to the next stage.
Understanding the Growth Leadership Inventory
How to interpret feedback from the Growth Leadership Inventory.
Creating a Shared Vision
How to define mission and vision. How to connect and align teams and individuals with the organizational vision, how to develop team and personal visions that focus on energy and activities toward implementing business strategy and how to communicate vision powerfully.
Adapting Mutual Influence
How to apply mutual influence skills for promoting learning and collaboration and how to use supportive confrontation skills for confronting behaviors that impede strategy implementation in a way that supportively develops individual capacity.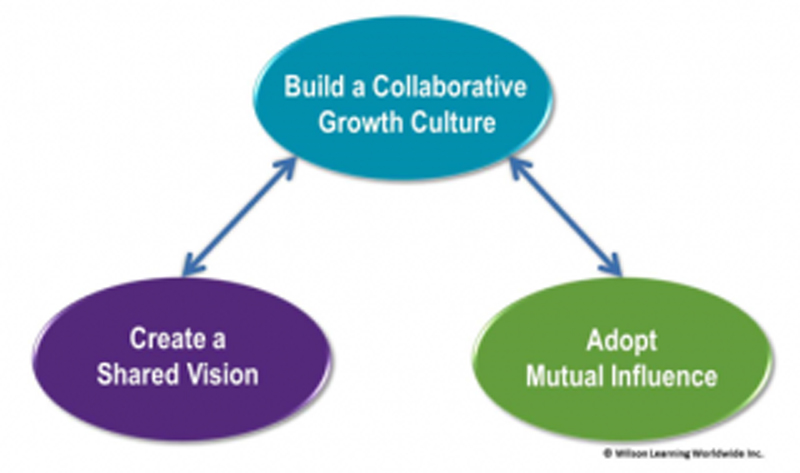 Leading for Growth is a 2 day program that features a participant guide, job aid card, application, reinforcement, and support tools so participants can develop skills during the workshop, fine-tune, and then apply the skills and behaviors back in the organization. .
After the workshop, Our Learning That Never Stops™ approach ensures skills learned in Leading for Growth will be transferred to day-to-day work practices with our extended learning follow-up for self-paced reinforcement.
Involving management to ensure alignment on an approach to creative conflict management and training them to coach for improved performance is important for successful implementation.
NuVue works with your team to identify your business needs to ensure the delivery of the program targets your business challenges and objectives. Program content can be customized based on your business model.
At the end of the workshop, participants are able to:
What our clients are saying Request More Information on Our Solutions
Please fill out the form below or give us a call at (800) 688-8310. We look forward to talking with you!
"*" indicates required fields
For more information or to get started,
call us at (800) 688-8310.