Accelerating Leadership Effectiveness with Leading in Challenging Times
Business Challenges Solved with This Course
Leading in Challenging Times
Today's business environment is a challenging place. Organizations are continually driven to develop new market strategies, improve response time, and stave off nontraditional competitors. To stay ahead of the competition, they must address marketplace demands swiftly and execute their new strategy initiatives flawlessly. Implementing new strategies requires change, and change requires people at all levels in the organization to be fully engaged and energized. However, change often results in employees who become frustrated or frozen, losing sight of what they do on a day-to-day basis. In response, the organization quickly becomes reactive rather than proactive, losing the speed and adaptability that won customers in the first place. The organization and its people often need help seeing change in positive, energizing terms.
What You Can Expect From This Course
Researched and developed by Wilson Learning, Leading in Challenging Times™ (LCT) focuses on what happens to human energy during times of change. To capture the discretionary energy of the workforce, leaders must understand how motivation and focus can be lost, and what they and their teams can do to regain effectiveness and commitment. During this 2 day workshop, participants will focus on the following key learnings:
Facing Challenging Times
How to recognize the challenges of the changing environment and the new strategies needed to succeed and how to understand what happens to people's energy when events disrupt stability.
Exploring Discretionary Energy
How to understand how energy disperses during change and the significance of loss versus gain. How to recognize how people experience loss.
Taking Stock
How to learn techniques for managing self-talk and consciously confronting one's own reactions to change and how to recognize loss in others, and practice skills and processes to support and mentor them through change.
Going Forward
How to understand the mental attitudes people or organizations may have about their change challenges and how to use skills and tools to develop strategies that will help create a sense of potentiality for oneself and others.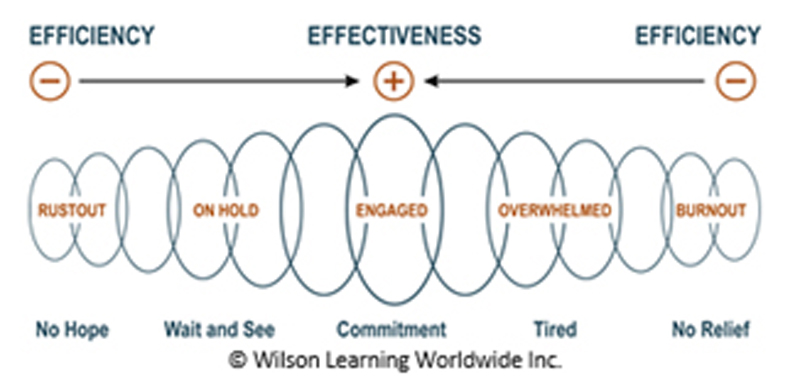 Leading in Challenging Times is a 2 day program that features a participant guide, job aid card, application, reinforcement, and support tools so participants can develop skills during the workshop, fine-tune, and then apply the skills and behaviors back in the organization.
After the workshop, Our Learning That Never Stops™ approach ensures skills learned in Leading in Challenging Times will be transferred to day-to-day work practices with our extended learning follow-up for self-paced reinforcement.
Involving management to ensure alignment on an approach to creative conflict management and training them to coach for improved performance is important for successful implementation.
NuVue works with your team to identify your business needs to ensure the delivery of the program targets your business challenges and objectives. Program content can be customized based on your business model.
At the end of the workshop, participants are able to:
What our clients are saying Request More Information on Our Solutions
Please fill out the form below or give us a call at (800) 688-8310. We look forward to talking with you!
"*" indicates required fields
For more information or to get started,
call us at (800) 688-8310.