Accelerating Leadership Effectiveness with The Leader Manager
Business Challenges Solved with This Course
The Leader Manager
Organizations expect managers to get results, but long-term performance requires a focus on more than just results. Research indicates that high performance is not sustainable over time unless it is accompanied by a high degree of fulfillment, in addition to a focus on performance—neither performance nor fulfillment exists in a vacuum. To implement strategy and create business results, managers must create an environment of performance with fulfillment. These skills require integrating the inspiration of leadership with the skill of management.
What You Can Expect From This Course
Researched and developed by Wilson Learning, The Leader Manager: Achieving Performance with Fulfillment (TLM) provides leaders with the framework and skills to enable the work unit to achieve Performance with Fulfillment—the combination of high performance and high satisfaction from meaningful work done well. Leaders learn to support their work units in terms of five practices to provide what their people need. During this 2 day workshop, participants will focus on the following key learnings:
Understanding the Challenge
What "Performance with Fulfillment" means and why it matters and how integrating leadership and management through the five practices is essential to creating performance with fulfillment.
Direction
How a common understanding of the organization's vision and strategy impacts engagement and how to ensure that direction is meaningful and motivational.
Goals
How to gain support and commitment to goals. How to communicate goals in a way that addresses both performance and fulfillment.
Feedback
How to apply a simple feedback approach to individuals and the work unit as a group that addresses both performance and fulfillment and how to seek feedback and receive it to model the right behaviors.
Recognition
How to discover what recognition employees really value, how to overcome the dilemmas of recognition and how to apply recognition to increase performance and satisfaction.
Support
Explore the parameters of effective direct support—what it looks like, how it contributes to performance with fulfillment, and when it is required. Learn and apply an approach for getting support and creating performance with fulfillment with other departments and functions.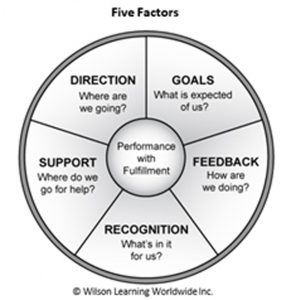 The Leader Manager is a 2 day program that features a participant guide, job aid card, application, reinforcement, and support tools so participants can develop skills during the workshop, fine-tune, and then apply the skills and behaviors back in the organization.
After the workshop, Our Learning That Never Stops™ approach ensures skills learned in The Leader Manager will be transferred to day-to-day work practices with our extended learning follow-up for self-paced reinforcement.
Involving management to ensure alignment on an approach to creative conflict management and training them to coach for improved performance is important for successful implementation.
NuVue works with your team to identify your business needs to ensure the delivery of the program targets your business challenges and objectives. Program content can be customized based on your business model.
At the end of the workshop, participants are able to:
What our clients are saying Request More Information on Our Solutions
Please fill out the form below or give us a call at (800) 688-8310. We look forward to talking with you!
"*" indicates required fields
For more information or to get started,
call us at (800) 688-8310.