Speak the Language of Business and Increase Your Sales
Many customers don't want your product, don't want your service! They want what your product or service can do for them. They are looking for business results like, more profits, less costs, better margins, better working capital, increased net earnings, better return on sales and more.
Salespeople who feel comfortable speaking the Language of Business will sell more and connect with how customers want to buy. Learning to speak the Language of Business and understanding your customer's business model is the first step.
"94% of all executive buyers indicate that they want salespeople to engage them in a business impact discussion ̶ but those same executives indicate that only 19% of salespeople are effective in this regard." * Essential Selling Competencies – The Buyers Side (Brandon Hall Group).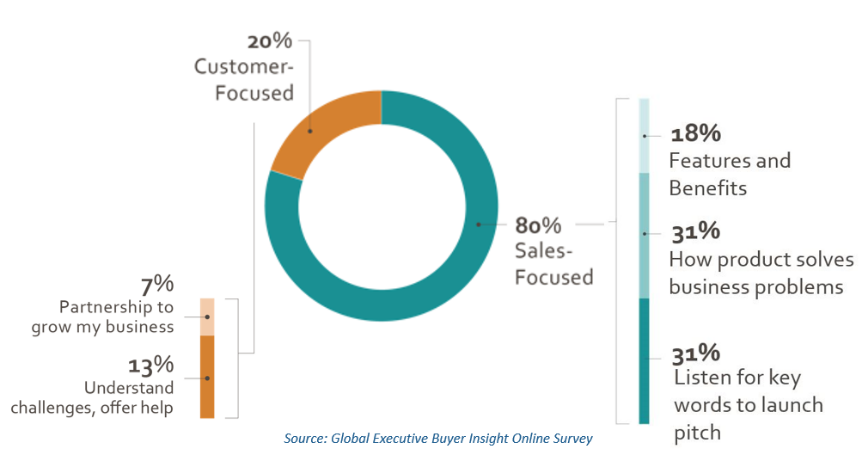 Furthermore, Global Executive Buyer Insight Online Survey suggests most salespeople focus 80% of their sales calls – focusing on selling features and benefits of their products vs only about 20% of the time focused on helping the customer Partnership to grow their business and solve business challenges.
To address this challenge – salespeople today must focus on speaking the Language of Business and understand Business Acumen so well they can hold business conversations with their customers. Let's take a look at Business Acumen a bit more.
What is Business Acumen?
Business Acumen is a combination of business knowledge and financial skills and the skill to apply that knowledge with confidence with customers and to make better business decisions for your company.
Definitions of Business Acumen can vary greatly but from NuVue's point of view Business Acumen is the study and application of:
Customer Knowledge – Knowledge of your customer's corporate strategy, what are their business goals and what business metrics do they track?
Financial Literacy – The ability to understand how your customer's business model and how your company's business model measures business performance. Often this is measured in terms of revenue or net income. Other companies might track key business ratios like Return on Sales or Return on Assets.
Sales Process Knowledge – Salespeople have to build trusting business relationships with customers and ask questions and listen. Salespeople need to know what the business goals of the customer are before positioning their products or services to best meet those business goals.
Making Sound Business Decisions – Salespeople many times make "Gut Decisions" or are quick to offer discounts to shorten the sales cycle or close a deal quickly. When a salesperson offers a 10% discount that generally means their sales should go up 25% to add the same level of Profit or Gross Margin dollars for their company.
Business Acumen is a skill that can be learned and is a powerful means of differentiating you and your company. Business Acumen and speaking the Language of Business with customers will not only increase your sales but also help to advance your career.
Anyone can learn the skills to obtain strong business acumen.
Getting Started Speaking the Language of Business
Now that we've looked at some of the skills needed to speak the Language of business with your clients – let's look at some simple ways you can build your business acumen skills.
1. Understand Your Customer's Business Model
A foundational component to developing strong business acumen is to gain an understanding of your company's business model AND a deep understanding of your customer's business model. Together, knowing how your company generates revenue and how they make profit is a great place to start. Next – you must learn how your customer makes money and must dive into various aspects of their business.
Wilson Learning has a great model – called the Business Needs Identification Model to help salespeople uncover core information that is important to customer. Items such as what is their corporate strategy, where do they want to be in their market, do they have the people and organizational structure to meet their business goals and overall strategy. In addition, it is important to what key business metrics do they watch closely? How is their bonus calculated? How do they measure success?
It is important for any salesperson looking to speak the Language of Business to ask these types of business questions to gain a better understanding of their customer, then adapt your capabilities presentations to demonstrate how your products and services can help your customer achieve their business goals.
2. Strengthen Your Financial Literacy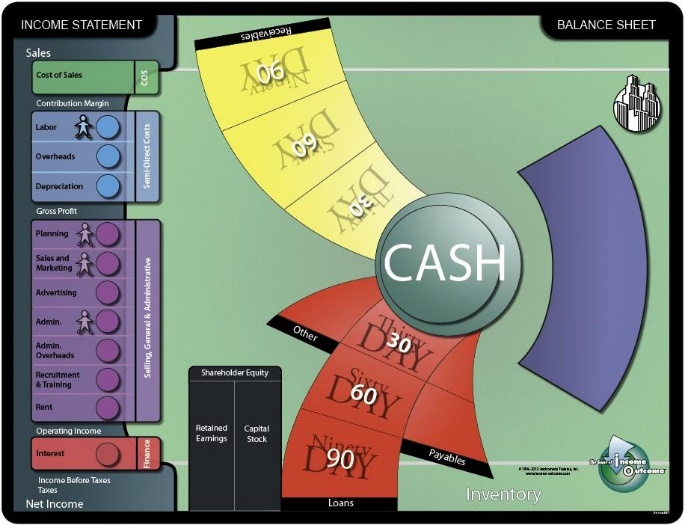 Every company has business and financial metrics they use to measure success. You have to understand what those key metrics are. One of the best ways I have found to better understand how your client's make profit is to model your customers business by playing a business simulation called Income-Outcome. This simulation was developed by Andromeda Training and their game board allows those not too familiar with business and finance terms to visually see their customer's business on a gameboard. They learn their customer's business by modeling how they win business, manage costs, and generate profits. At the same time, learn simple business ratios that companies use and then have the ability to ask business and financial related questions with their customers.
Other ways to strengthen your financial literacy is to try out Investopedia's financial dictionary with micro eLearning modules or read the easiest to understand financial book on the market – Financial Intelligence, Revised Edition: A Manager's Guide to Knowing What the Numbers Really Mean.
3. Understand the Sales Process
The Sales Cycle has shifted and so must every salesperson's approach. Today, many customers use the internet and social media to gain information about your company's products and services. They have opinions about them before you reach out to them. These opinions can be positive or negative. If negative, you might not even get an appointment.
Speaking the Language of Business and knowing your customer's business model will help you get appointments and start the conversation on business topics and financial metrics. A little research on your end before your first meeting will help you set the meeting up to be customer focused – NOT YOU focused. We use a simple model called Purpose – Process – Payoff to get appointments that are customer focused and have benefits for both the customer and you.
The Purpose of my call today is to help you and your organization increase market share of your newly launched product. I would (the Process) suggest for our meeting that it includes time for me to learn about your product launch, the goals and financial metrics you must hit and then I can share some of our capabilities that could accelerate the product launch and help ensure you hit the financial metrics needed. When we are done (the Payoff) we can determine if working together benefits both organizations.
4. Listen to Your Customers
The last item on this list and maybe the most important. Find out from your customers what motivates them to buy from your company. You want to understand their challenges so that you can assess how your company's offerings provide a solution.
The more you learn about your customers, the better you can identify the path for your company to deliver compelling products and services that add value and help them achieve their business goals.
This is key to advancing business acumen since you're gaining insight into the most important stakeholder, and it helps with all other business acumen skills such as focusing on the items that matter most to your customers.
A final word about speaking the Language of Business
Developing your business acumen and being able to speak the Language of Business takes time, but as soon as you start down the path of building it up, you can immediately start to apply your knowledge. Over time you'll be a master of key business concepts like pricing strategies and business development.
You'll know you're on the right track when your decision-making is faster, you're able to pivot effectively when things don't go according to plan, and the results of your decisions are frequently spot-on.
So, tackle your personal development with the goal of building a disciplined, consistent approach to analyzing business problems and making informed decisions, and you'll gain strong business acumen.